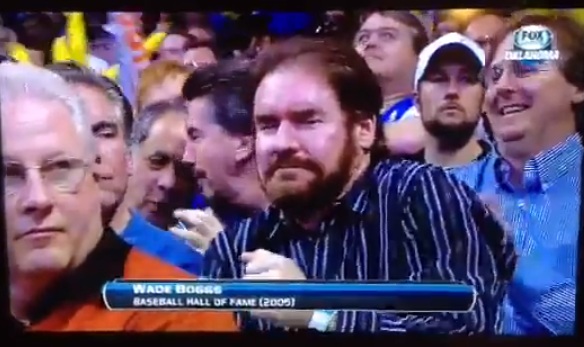 Something important happened on December 17, 2012 in Oklahoma City, Oklahoma during a game that saw the Oklahoma City Thunder take on the San Antonio Spurs. Yes, Serge Ibaka went for 25 points and 17 boards. Yes, the Thunder moved to 20-4 on the year and extended their win streak to 11 straight. Yes, Gregg Popovich said absolutely not to wearing a tie for the trillionth time in his career. But these things, when measured up against the event that I am speaking of, are less than nothing. This wonder, this magnificent human achievement that is destined to make December 17, 2012, go down in history as the day the whole world finally saw real, unbridled beauty, this is why we watch.
You see, Wade Boggs danced. And it was FIRE.
Shut it down. Pull the lights and the curtain and feel the seismic shift in the Greatest Dancers of This or Any Generation's Power Rankings. Whatever lists of the world's best dancers you had before are now as dated as VHS or quoting MadTV, because Wade Boggs now belongs at the tip top of each and every one of them. So step aside prima ballerinas. Adios Jabbawockeez. Peace out black swans. Wade Anthony Boggs is here and he is dancing and he won't stop till he gets enough.
I know we're a couple days late on this, but it took this long to fully comprehend the magnitude of what took place.
Look at the form from the Hall of Famer. The fluidity. The passion. The playful intensity. You see how he means every move and allows his body to flow and convulse with purpose? The music is moving through him and he is allowing his body to react. The pitch comes, and you swing. The ball is passed, you catch it. The music plays, you dance to it. It is all instinct, and his instincts are clearly the greatest this planet has ever known.
He is not above being excited to be on the jumbotron in Chesapeake Energy Arena. He sees he has been given a stage and he doesn't squander it like some peace sign making, hat waving, shirt popping vagabond wannabe. No.
Eyes closed. Arms bent. Hands balled into fists. That smooth sway back and forth. He even faintly bites his lip for a split second right before the final clap and the camera cuts away. He puts on a 6 second dance recital the likes of which this earth has never seen.
Brian Davis, the Thunder's uber excitable play-by-play man tells viewers that Boggs is "feeling it". Yes he is, Brian. And he's feeling more than the rest of us. So. Much. More.