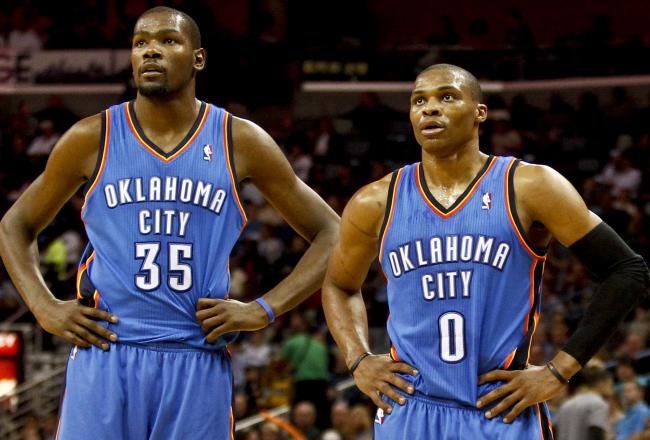 I am incapable of faking it when I don't like how food tastes. I've found this out from friends in recent years. It pissed off a girl once who put a lot of salt in her chocolate chip cookies. She'd raved about the cookies. Oh, they're so good. You've never had cookies like this. That kind of thing. Basically what everyone says about their chocolate chip cookies. She brings over a whole Tupperware tub of them. They look good. I bite into them. They don't taste that way. She sees it immediately.
"You hate them."
I scramble.
"No no no. They're great. I just…is that salt?"
She says yes and then it's disaster and she takes the cookies back and rolls her eyes so hard all I see is white and I think she could see her brain. Death comes for us all.
—-
Now, basketball.
I'm a fan of the Oklahoma City Thunder. Hard for me to fake like I'm not. I should maintain objectivity and keep up some level of professionalism, probably, but I've written things about Stephen Jackson liking Coldplay so I am without spine.
I know. This is self serving. I'd hate me, too.
—-
I should say that there is nothing original about this idea prior to telling you about the idea. It's been done before and it'll be done again and, if I'm being honest with myself, I'd imagine there won't be an extraordinary number of people that find this interesting.
The idea, really, is a rip off of Grantland's Alex Pappademas' I Suck At Football blog he wrote throughout the NFL season. Click on the link above if only so you can see what great writing actually looks like.
Basically, I'll document the experience of watching the Thunder from here on out. I care about the games entirely too much and it'll be a sad and pathetic journey that will, most likely, end in bitter disappointment with me shoveling a piece of Dominos Stuffed Cheesy Bread into my face while LeBron and Wade dance around Derek Fisher's ashes as Miami men wearing all white linen outfits and sunglasses indoors talk about how much they enjoyed the game and wished they'd shown up for the whole thing instead of arriving halfway through the second quarter but that new sushi place was really good and they should go back soon.
I'd told myself that I was going start doing this in the playoffs, but with three games left in the season and there being a one game difference between the Thunder and the Spurs for the top spot in the West, it'd be fair to say that it's getting all playoff-y already. So, let us party.
—-
Not matter how much TNT tells me not to, I'm afraid I might miss Pain & Gain. Apologies to Dwayne. And it would appear that Wahlberg has become too cool to say any line given to him.
—-
This will be a bizarro Xanga at times, I'd imagine. Feelings and opinions without a great deal of thought given to how I'm expressing them. Childish, but not in the cool Kid President kind of way.
—-
Last night the Thunder played the Warriors. They won kind of sort of handily and Kevin Durant was kind of sort of the model of efficiency once more with 31, 10, and 8.
At halftime Kenny used the word array when he meant to say erratic, Charles continued to say the Thunder can't win a title shooting jumpers (That should really turn into a drinking game at this point), and Shaq kept with his tradition of reading off a players' statistics while trying to pass it off as analysis. These latter two things will undoubtedly happen with a disgusting amount of regularity once TNT begins their 40 games in 40 nights run. I'll cry and you'll cry and people everywhere will wonder if they'll ever hear a new song. All the new songs are gone. The 24 hr news cycle and Twitter took them away from us and our fingers are cold and dead and in ditches.
—-
As a Thunder fan, this post season will be stressful and strange. It would appear that, fair or not, the world won't allow it to be anything other than championship or bust. Westbrook and Durant will be put under a microscope and every moment will be dissected and twisted to fit whatever narrative the powers that be within the press are trying to be sell. They'll say the Thunder would have won if they'd kept Harden. There will be eulogies for what we would've been if the CBA didn't exist as it currently does. It will be annoying.
That being said, this is an exciting time. On the verge of the playoffs, primed to make a healthy run and, maybe, if chips fall right, win the whole thing. Not all teams can say that. The Thunder can. That is cool.
As for this thing you're reading, whatever it is or decides to become, it'll come to you weekly.
I suppose this was the pilot episode for the series that will be this collection of trashy essays. Like all pilots, I'd imagine it sucked. But hopefully you saw something that made you want to watch again. Hopefully there's something beneath the drivel that you can grab hold of to entertain you. It's cool if there's not. The Internet's a big place. There's something for you somewhere. If you like the Thunder, you'll probably, maybe, find this interesting. I hope so, at least.
It would appear, though, that the honeymoon has faded. Getting there won't be enough. They'll have to win it. I guess, Thunder fans, we're officially greedy.
See you at Will Rogers World Airport.