Every so often an artist comes along that so captures the spirit of their generation, their lyrics become transcendent. Every word they write, then sing, come to embody the thoughts and feelings of their contemporaries. Every other artist must stand in awe. They can hope, aspire to obtain that level of greatness, yet never approach it. This is 60's Beatles. 70's Zepplin. 80's Michael Jackson. 90's Tupac. Supernatural, awe-inspiring, musical creation.
For this generation, there is only one clear choice.
Taylor Swift.
Being the artist of your generation means more than just a musical legacy. It means your lyrics can apply to every facet of life. Naturally, here at Baller Ball dot com, we've found every Taylor Swift song that perfectly fits each NBA team.
Eastern Conference
Atlantic Division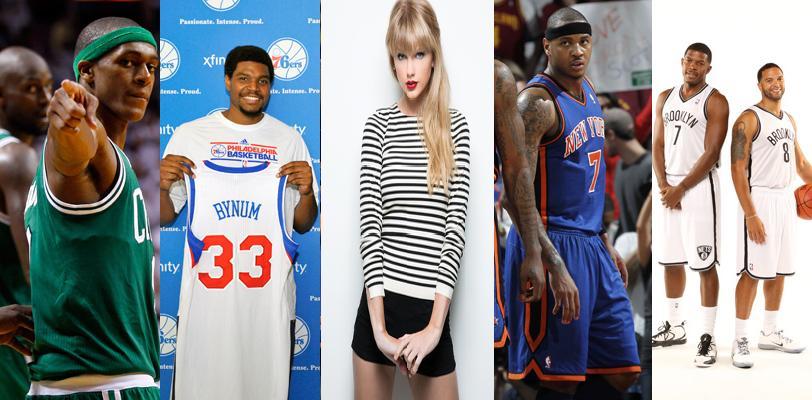 –
Boston Celtics – "Tim McGraw"
Lyric:
When you think Tim McGraw
I hope you think of me.
When you put the resumés side-by-side, Tim McGraw and this version of the Boston Celtics are basically the same. McGraw spent a shining moment as country's leading man, but now, no one is quite sure who he is. He's largely living off the success of his hot wife and his past glories.
So too are the 2012 Boston Celtics, a team with enough talent to remind us of their former greatness, but clearly not the leading men we remember.
–
Brooklyn Nets – "Sparks Fly"
Lyric:
As the lights go down
Something that'll haunt me when you're not around.
I'm not certain, but I feel confident that this lyric is either about Deron Williams decision to bury himself in Brooklyn basketball hell or the size of Brook Lopez's contract.
–
New York Knicks – "Fifteen"
Lyric:
When all you wanted was to be wanted
Wish you could go back and tell yourself what you know now
This is truly about Carmelo Anthony. He whined his way out of Denver for the big, beautiful stage of New York and now, well, yeah, he plays for the Knicks.
–
Philadelphia 76ers – "You're Not Sorry"
Lyric:
Lookin' so innocent
I might believe you if I didn't know
Could'a loved you all my life
If you hadn't left me waiting in the cold.
Remember when the Sixers made that huge trade for Andrew Bynum that was sure to take them to the next level? Well, he and his ever-changing doo left them in the cold.
–
Toronto Raptors – "White Horse"
Lyric:
This is a small town
I wuz a dreamer before
You went and let me down
Sang every Raptors fan ever.
–
Central Division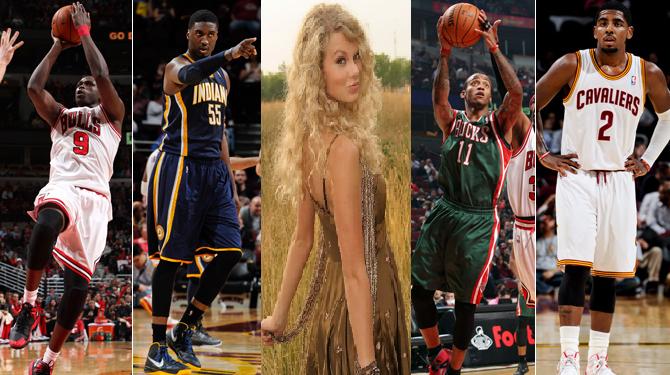 –
Chicago Bulls – "Come Back Be There"
Lyric:
And this is when the feeling sinks in
I don't wanna miss you like this
Come back… be here, come back… be here
If you listen beneath the sobs of even the most dogged Bulls fans, you'll hear them muttering these lyrics… over and over and over. We miss u Rose.
–
Cleveland Cavaliers – "A Place in this World"
Lyric:
I'm alone, on my own, and that's all I know
Written in 2006 about LeBron James, it remains a phenomenally accurate description of the 2012 Cleveland Cavs and Kyrie Irving.
–
Detroit Pistons – "Hey Stephen"
Lyric:
Hey Stephen, I know looks can be deceiving but I know I saw a light in you
Remember the brawl in the palace?
–
Indiana Pacers – "Hey Stephen"
Lyric:
Hey Stephen, I know looks can be deceiving but I know I saw a light in you.
Remember the brawl in the palace?
–
Milwaukee Bucks – "Forever & Always"
Lyric:
It rains when you're here and it rains when you're gone.
The moral of the story is that it's always shitty to be a Milwaukee Bucks fan.
–
Southeast Division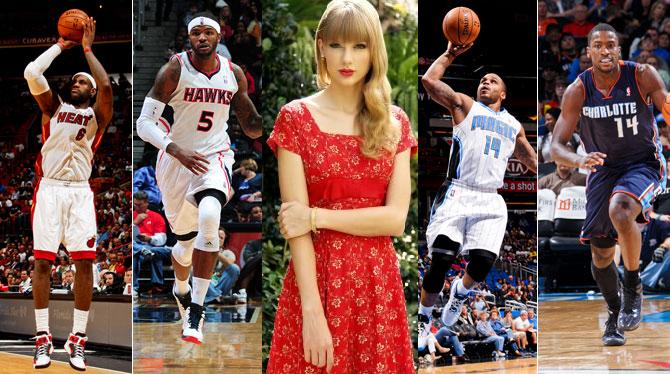 –
Atlanta Hawks – "Speak Now"
Lyric:
This is surely not what you thought it would be
This is basically what they've said after every Atlanta Hawk season ever.
–
Charlotte Bobcats – "Change"
Lyric:
This revolution, the time will come
For us to finally win
And we'll seing hallelujah, we'll sing hallelujah
When you are a Bobcats fan, all you can do is hope.
–
Miami Heat – "Superstar"
Lyric:
I can't take my eyes off of you
I'm no one special, just another
Wide eyed girl who's desperately in love with you
Give me a photograph to hang on my wall, superstar
Sweet, sweet superstar, superstar
Oh swoon, LeBron.
–
Orlando Magic – "You Belong with Me"
Lyric:
So why can't you see
you belong with me,
you belong with meeeeeeeee
The Magic still don't understand why Dwight Howard didn't want them. Also, Dwight Howard still don't understand why he don't want what.
–
Washington Wizards – "Invisible"
Lyric:
We could be a beautiful
Miracle
Unbelievable
Instead of just invisible
You could be, Washington.
–
Western Conference
Pacific Division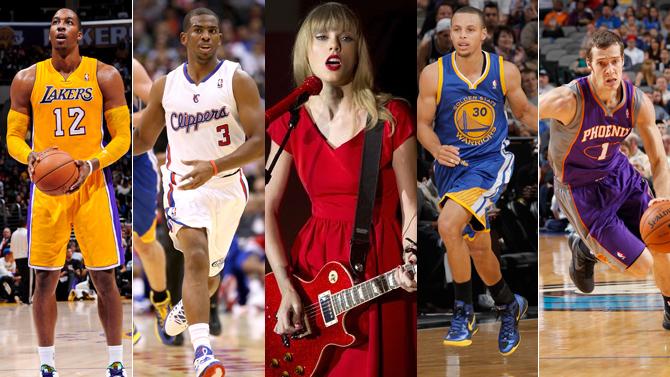 –
Golden State Warriors – "Better than Revenge"
Lyric:
Come on show me how much better you are (so much better, yeah)
Pre-season prediction, every year: The Warriors are a real sleeper team this year. Look out for them.
Postseason conclusion, every year: The Warriors aren't there yet. They need a few more pieces.
–
Los Angeles Clippers – "Sparks Fly"
Lyric:
I'm captivated by you, baby, like a firework show
No one really knows if the Clippers are actually that good, but everyone loves to talk about them. Lob City!
–
Los Angeles Lakers – "Red"
Lyric:
Remembering him comes in flashbacks and echoes
Tell myself it's time now, gotta let go
But moving on from him is impossible
When I still see it all in my head
Burning red
Love him was red
Oh Phil Jackson, we miss you.
–
Phoenix Suns – "All Too Well"
Lyric:
And I know it's long gone
And that magic's not here no more
And I might be okay
But I'm not fine at all
Yeah… it's gonna be a long, Nashless season in Phoenix.
–
Sacramento Kings – "22"
Lyric:
Too many cool kids, ah ah, ah ah
The Kings are worth watching every night… for the simple reason that they could implode at any given second.
–
Southwest Division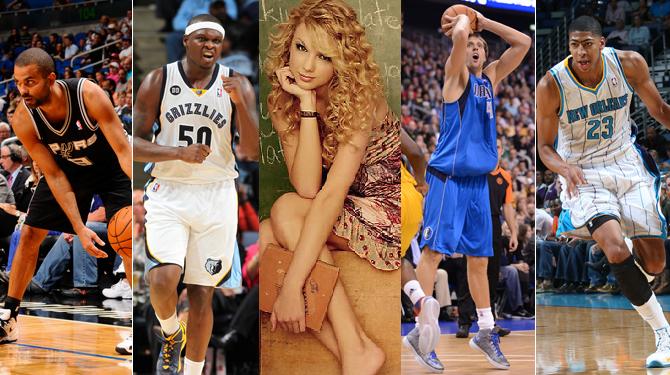 –
Dallas Mavericks – "Holy Ground"
Lyric:
Tonight I'm gonna dance for all that we've been through
But I don't wanna dance if I'm not dancing with you
The Mavericks without Dirk Nowitzki is like porn without fake breasts.
–
Houston Rockets – "The Lucky One"
Lyric:
New to town with a made up name in the angel city,
Chasing fortune and fame
Ooooh James Harden. Ooooh franchise player. Oooooh beard.
–
Memphis Grizzlies – "Long Live"
Lyric:
Cause for a moment a band of thieves
In ripped up jeans got to rule the world
That moment is the week before the playoffs, every year, when "analysts" boldly declare the Grizzlies are a dangerous team (see "band of thieves") that could do some damange (see "ripped up jeans").
–
New Orleans Hornets – "We are Never Ever Getting Back Together"
Lyric:
We are never, ever, ever… getting back together
Dell Demps oughta blast this out a boom box he holds over his head, nightly, as he stands outside Eric Gordon's window.
–
San Antonio Spurs – "Fearless"
Lyric:
In this moment, now capture it, remember it
So it is written, so it shall pass, these are the final days of Duncan.
–
Northwest Division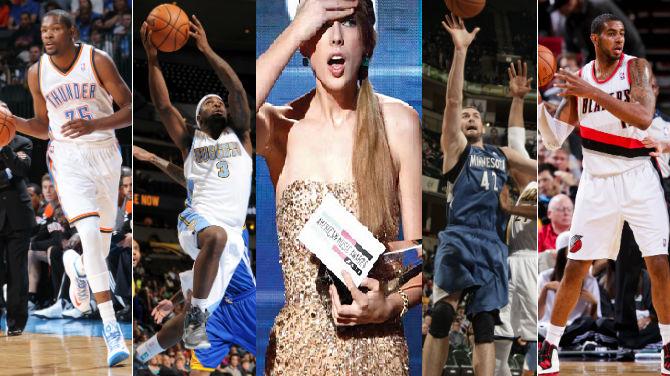 –
Denver Nuggets – "Tell Me Why"
Lyric:
You could write a book on how to ruin someone's perfect day
Doesn't it seem like the Nugs are always spoiling something for somebody?
–
Minnesota Timberwolves – "Forever and Always"
Lyric:
All of it, seriously.
This is basically a synopsis of Kevin Love's fleeting time in Minnesota.
–
Oklahoma City Thunder – "Never Grow Up"
Lyric:
Oh darling, don't you ever grow up
Don't you ever grow up, just stay this little
Everyone loves the darling youth movement in Oklahoma City. Oh what a lovable bunch of kids just playing the game they love!?! Stay little OKC, we love you for it!!!!
–
Portland Trail Blazers – "Mean"
Lyric:
Why you gotta be so mean?
Yeah, Portland, WTF is up with that?
–
Utah Jazz – "The Last Time"
Lyric:
No reasons why
Exxxxacctttllyyyy.
—
Thank You Taylor Swift