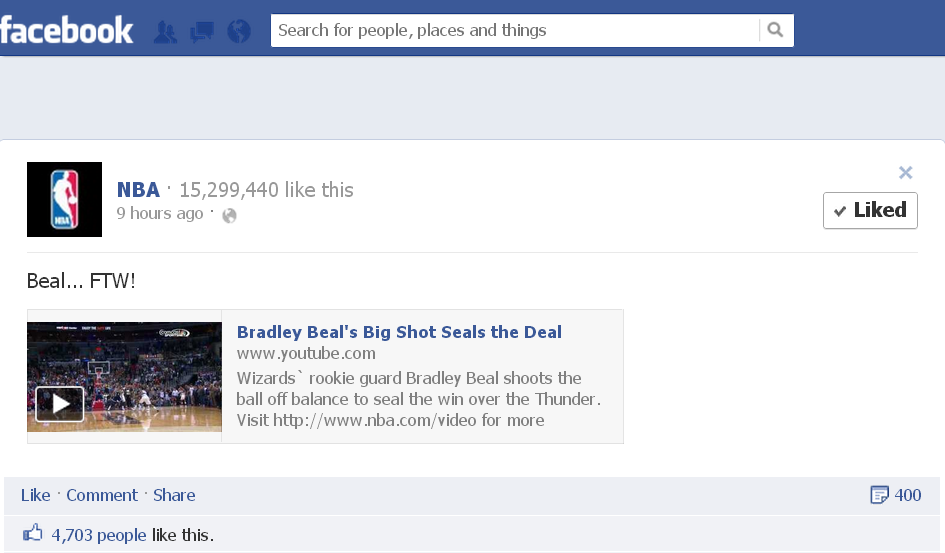 Hang on, did the NBA really just say "Beal…FTW?"
How does that make you feel?
For some of the abbreviation savvy folks out there, they just nod in agreement. The other group will look at that and say, "Wow, in some ways, yes Beal did do that. Nice observation, NBA."
Call me Mr. Millennium, but I recently discovered that there is a debate in the meaning of FTW. One group will say what I believe the NBA intended. "Beal…for the win!" This is true. Beal did make a shot that virtually won them the game.
The other group (which I am a member of) will read, "Beal…@#$% the world!" This is also true. Beal very much said FTW as he personally sunk the team that had the best record in the NBA at that time. The FTW definition is even more clear when you realize that 2 of the 5 wins that the Wiz have notched so far this season have come against the Heat and Thunder. They better hope they don't run into the Wiz in the post-season.
So which one is it? You'll probably lean toward your preconceived definition of FTW, but think how much Beal said FTW by sinking that shot FTW.
There are many other abbreviations that have double meanings. Let me share some others that I've found in my travels.
WTF – "Win that frequently?" 
This is typically a sarcastic challenge to the FTW abbreviation.
BRB – "Babe's a real beauty" 
Not limited to attractive women.
ROFL – "Really over fine linens" 
Fashion/Home Decor jargon.
LOL – "Lay it on the Line" 
A business term from the 90s.
IMHO – "I may have osteoporosis." 
That condition is really hard to spell if you're not a doctor.
OMG – "Open my Gatorade" 
Varsity bullying on Junior Varsity athletes.
OMFG – "Open my @#$%ing Gatorade" 
Authoritative Varsity bullying on Junior Varsity athletes.
IDK – "I doubt Karma." 
A critique of the Buddhist cause and effect system based on deeds.
JK – "Just Kiting" 
A convenient response for kite-flyers when inquired about their current activity.
FML – "Feed my Llama" 
Common Llama Farm jargon.
BFF – "Baking French Fries?" 
Typically said from nosy neighbors/children in basement.
NP – "New Pants?" 
A common courtesy among business executives.
TTYL – "Tickle The Young Lad" 
Old Irish children's game.
Ok in light of global warming, I've GTG (gardens to grow). If you have experienced any other double-meaning abbreviations, leave them in the comments below.
—