I was always told when I'm trying to say something very important, sometimes less is more.
The following movie reviews by professional basketball players back up the statement "less is more."  These are short and to the point.  Let's dive in for an abbreviated version of:
Movie Reviews by NBA Players – December 3rd Edition
——
Rise of the Guardians
Martell Webster – Washington Wizards #9 (SF)
Just took the kids to see Rise Of The Guardians. Freakin Epic! instagr.am/p/SjamNPhHsi/

— Martell Webster (@MartellWebster) November 28, 2012
This isn't the first time Martell tweeted about taking his kids to see a kids movie.   It's a very admirable thing — but "Epic?"   Sorry — "Freakin Epic?"  The man has strong praise for the film, so much so that he Instagramed a photo of a computer animated Justin Bieber in a blue hoodie.  That's high priase, right there.
—
Life of Pi
Deandre Jordan – Los Angeles Clippers #6 (C)
Life of Pi.

— DeAndre Jordan (@deandrejordan) November 26, 2012
Yes DeAndre, Life of Pi is something.  We are aware of it's existence.
Did he see it?  Who knows.  Maybe he took the "Abbreviated Reviews" a little too seriously.  Either way that tweet managed to be RTed 33 times and Favorited 26 times.  1 of 2 things is happening here.  Either several people have some sort of telekinetic tweet connection with DeAndre that I don't get or people just really like his acknowledgement of films.
I apologize that we didn't get a positive or a negative review.  I'm pretty confident that that'll be the most "WTF" review of this column.  Moving on…
—
Red Dawn
Dante' Cunningham – Minnesota Timberwolves #33 (PF)
Red dawn is like that!!!!!

— Dante' Cunningham (@DlamarC33) December 3, 2012
Do what, now?  Red Dawn is like what?  That? Or this?  Or… I'm confused Dante'. There is 5 exclamation points, which either means you hated it or loved it.  Dante', I'm writing a dad-gum column here.  Offer some clarification, please.
Good, he tweeted exactly 2 minutes later.  Surely a follow-up to what the pronoun "that" meant.
What???

— Dante' Cunningham (@DlamarC33) December 3, 2012
What do you mean, "What?"?  What you, Dante'.  What YOU.
You know, Dante' is being pretty vague.   He needs to some specificity in  his life.  Maybe I can find him and just ask him face to face.  Let's check out his Twitter home page to see if he can tell me where he is.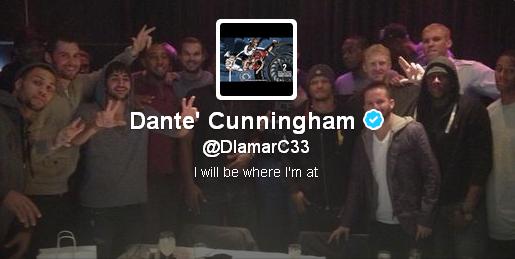 Too Vague, Dante'.  Much too vague.