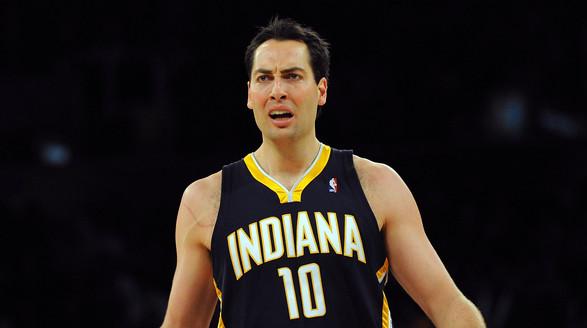 Jeff Foster spends his days with the shades drawn and the ceiling fans humming overhead. He's in a monogrammed robe with "JF" on the left chest and an old pair of Southwest Texas State practice shorts. Month old beard clings to his hopeless face. The television in the room is off and he stares at his reflection in it. His eyes are red. They are red because of all the tears. He cries and sniffles and cries some more. He does all this because he just discovered Drake.
Thirteen years. Thirteen. That's how long he played in the league. Every single one of those thirteen spent putting on the Pacers jersey. Now he's retired, broken up with the game he called life because of chronic back problems, and he's listening to Marvin's Room way too much.
He hadn't realized how much he missed the game until the Toronto songbird with an affinity for saving strippers and sending bottles of champagne over to Rihanna's ex lovers showed him what it was to have emotion. That real rawness.
Take Care blares from his iHome all day. His wife tries to get him out of the house, but he curls up in a ball on top of the bear skinned rug in his man cave and will not move. He won't talk to anyone except his agent and current general managers.
All the calls go about the same.
He'll call Billy King and ask about Kris Humphries. When Billy asks what he wants, Foster says, "I'm just saying, you could do better."
King hangs up.
Foster discovered Drake when he was browsing the iTunes Music Store on a Saturday at 2 in the morning. He'd bought Birthday Song by 2 Chainz recently, and now iTunes had HYFR in his suggested listening section. He previewed it and was overwhelmed. He listened to the rest of the album and was paralyzed with grief. Now he does not eat. He falls asleep to Drake and wakes up to Drake and repeats the cycle and that is his life.
His heart hurts. He listens to The Real Her most of all. He sings along to it. His real her is the game of basketball. The man with the eighth highest rebound rate in league history treated the ball with tender love and care, pursuing it and giving everything for it so it wouldn't hit the ground. Now, he feels, players have no respect. They do no give chase when they should. They do not love.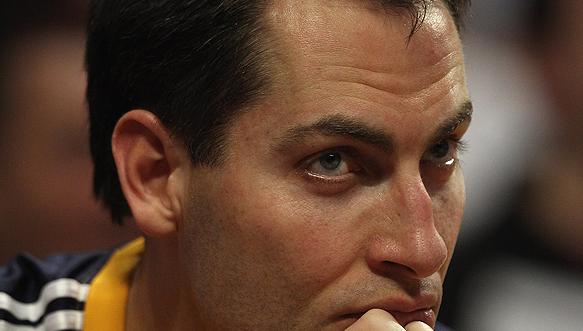 —
Drake plays in the room.
People around you should really have nothing to say. Me I'm just proud of the fact that you've done it your way.
Foster throws a blue racquetball off the ceiling and nods through the tears. I did do it my way, he thinks.
He finally calls Kevin Pritchard, the general manager for the Pacers. He breathes heavily with the phone as it rings. He closes his eyes. Pritchard answers.
"Hello," says Pritchard.
"Hey, Kevin," says Foster, "It's Jeff. Jeff Foster. From last year. I grabbed all those rebounds."
Pritchard nods on the other end of the line.
"Yea, Jeff," says Pritchard, "I know who you are. What can I do for you?"
Foster scratches his nose.
"It's about you choosing Hansborough over me…they showed you on television during a game the other night after Tyler missed a chippy underneath…I can see it in your eyes, you're angry. Regret got $#!+ on what you're feeling now. Mad cuz he ain't like me. Oh, you mad cause nobody ever did it like me. All the care I would take, all the love that we made. Now you're trying to find somebody to replace what I gave to you. It's a shame you didn't keep it. Mahinmi. Hansborough. I know that, at the very least, you're gonna hear this: I'm the man. Yeah I said it! Kev, I'm the man. Don't you forget it. The way Tyler walks, that's me. The way he talks, that's me. The way he's got his hair closely cropped, did you forget that's me? And the voice in the phone right now, that's me.
Pritchard says nothing. Foster wipes up a tear, then he hangs up. He throws the phone against the wall. The wall is thin and it gives and now there is a dent. The phone is shattered. He lays down on the bearskin rug once more. He grabs the bottle of Rare Eagle bourbon on the coffee table next to a Car and Driver and tips it back into his mouth.
He walks to the television and turns on the DVD of last years playoff series vs the Heat. It's a Pacers home game. Game 3. The Pacers run roughshod on the Heat. The Market Arena crowd is losing its collective minds.
"They lovin' the crew," says Foster.
He smiles. He just wants a chance. A chance to prove himself. A chance to show that he's still got it. That it never left him. That it just went and hid for a bit when the back pain got to be too much.
He wants a workout so he can have a coach look him in the eye after he's just chased down a big offensive rebound and say the immortal words of Drake: "I can tell that you've been practicing."
*All of this is made up and none of it is true. Merry Day After Christmas.