Has the following scenario ever happened to you?
Someone says "Gentlemen!  Let us go to a movie."  I respond with  "That sounds swell!  Let me go to an online resource for movie reviews called Rotten Tomatoes to see what the critics have to say!"
Then it hits me.
Who are these "critics" that are writing these reviews?  They think they know me?  They don't know me.  They don't have anything in common with me.  I need an online resources for movie reviews by people that I can actually related to.  People like…
Professional Basketball Players!
Ballerball Presents:
Movie Reviews by NBA Players – October 15th – October 22
__________
Argo
Jared Dudley – Phoenix Suns – #3 – (SF):
Jared Dudley gives Argo a solid 8.5, which is fairly low for the amount of exclamation points he used.  He'll need to pick up a second twitter account if a movie is ever deserving of a rare Jared Dudley Perfect 10.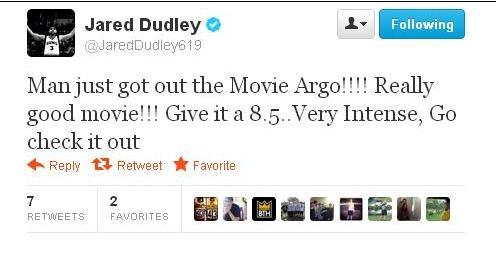 Shawn Marion – Dallas Mavericks #0 ( SF):
Shawn Marion doesn't use Dudley's 1-10 scale, but his nickname does come from a successful movie franchise (The Matrix).  He is a man of few words so for him to even say anything about the movie means the man liked what he saw.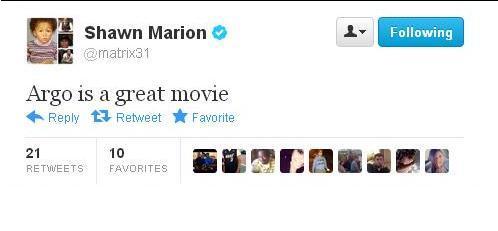 __________
Paranormal Activity 4
Reggie Williams – Charlotte Bobcats #55 (G):
Reggie Williams is no stranger to the caps lock key, but he seems extra excited about PA4.  It appears that the word "crazy" is a good thing in the world of Reggie Williams.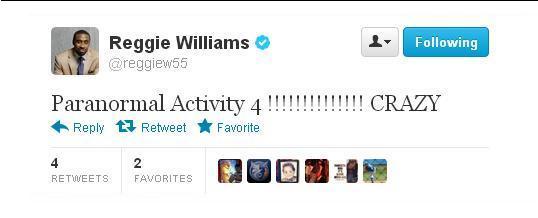 Travis Leslie – Los Angeles Clippers – #23 (SG):
Travis isn't buying the hype behind PA4.  It appears he's been let down by a franchise that was responsible for 2 "Horror Movie of The Year" trophies at The Teen Choice Awards.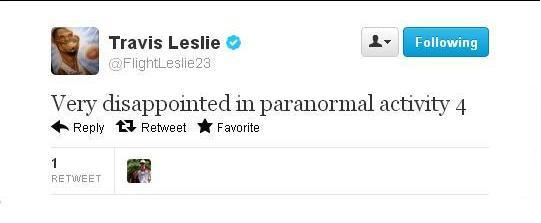 Danny Green – San Antonio Spurs – #4 (SG) :
For the tiebreaker, Danny Green gives Paranormal Activity 4 an acknowledgement of it's existence.   Thanks Danny.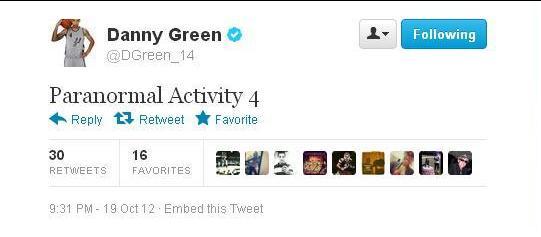 *-Fin-*