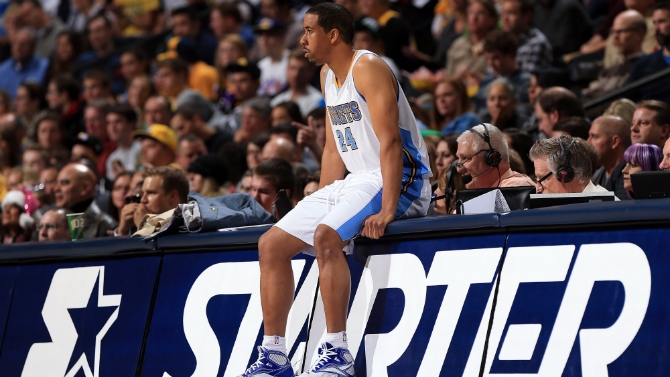 Andre Miller is Pocahontas. I'll take the long way to that point.
I saw Pocahontas when I was 7. My grandma took me and my little sister to the disaster of a movie theater behind the Southerland's that has since been taken down. Ten years later, my friend Tanner Wilson and my friend's enemy, Michael Chang, would get into a fight in the parking lot of that abandoned theater. Well, it was more of a "fight". Chang tried to tackle Tanner and Tanner, being the UFC fan he was, got him in a choke hold and squeezed on his neck till Chang tapped. It was pretty anti-climactic. Very "that's it?". We drove to the Taco Bell and hid out after Tanner's mom sped into the parking lot to break it up shouting something about having called the cops. Admittedly, that has nothing to do with anything. Just sometimes there's stories you want to tell.
Anyways, the movie. I'd never before thought about painting with anything other than my fingers. Now this really tan woman who could speak to trees was talking about painting with the wind. I liked the movie, but it's not a favorite of mine. I only think about it when someone says the word "savages" or references a sycamore.
But let me tell you something. I'm flipping through the channels one lame Friday night, and looky what ABC Family has here: Pocahontas.
I watched the movie again because nothing else was on and I came to several realizations that I had never before realized.
First, all the music in that movie GOOOOOEEEESSSS. I want to be bros with the rainstorm and the river.
Second, and really most importantly, Pocahontas is really hot.
Like, super, 7 suns worth of heat, HOT. I changed the channel over and she's maneuvering through these rapids like its nothing and she just looks so good. I'm 1/64th Cherokee, so I can say that.
What I'm saying is, I thought I knew all there was to know about this thing because I saw it a long time ago. But I'm older now. Not smart, certainly, my friends will tell you that. But smarter than I was. Then, I see it again and realize that I was really missing out the first time around.
This is how I feel about Andre Miller. Since his peak with Philly in 07-08, some people don't give him an extraordinary amount of thought, but this guy has been playing solid basketball for the entirety of his career. Sadly, and this harkens back to my lack of intelligence, it's taken me till recently to fully realize that.
—-
At the seasoned age of 36, he's still playing with a wonderful amount of efficiency and creativity. In a league that is becoming controlled more and more by super freak athletic speedy point guard types that can play above the rim, Miller is a throwback. He plays at his pace. He keeps the waters calm.
As a backup with the Nuggets, he provides a chopped and screwed remix to the fast paced starter, Ty Lawson. If Lawson's game is the first verse of Bombs Over Baghdad, then Miller's is the whole of Big Poppa, classic and smooth and velvety.
His minutes have gone down this year, and with that so to have his numbers. Still, career averages of 14 points and 7 dimes are certainly not the numbers of a slouch. He's nearing and passing career milestones and that's causing people to start to write super sexy columns about whether or not he's worthy of a Hall of Fame nod when his career is done. The guy is just a few inches away from 15,000 career points and he's tenth all time in assists. To hear his current coach George Karl tell it, the guy is a consummate professional. The proverbial, cliched hard hat guy who shows up and just gets the job done. You know, the thing everybody always says about a player who has success but isn't extra-terrestrial levels of athletic.
Still, even in his fading years, every so often he's good for an explosion. Last month he comes off the pine to pour in 18 on the Grizzlies to help put them away. Sunk four free throws in the final 10 seconds of that game to slam the door on the Fighting John Hollingers. He's steady. Very, very steady.
There's arguments to be made for and arguments to be made against him making the HOF. I'll refrain from taking a stance either way because I'm a chump, but I will say the guy has been a consistent breath of old school air throughout his time in the league. Really, a player you can count on. Don't know that there's higher praise you can bestow upon a player.
Watch Miller play. You'll be glad that you did.
A final aside: Mulan came on right after Pocahontas. I also ate a full Little Caesar's Hot N' Ready throughout the course of these two movies. Soooooo, pretty chill Friday night.