The NBA is ripe with personality and flair. Some of that personality and flair, to date, has not been capitalized on by advertising agencies or the businesses and products they represent. Over the rest of the season, when we're not lazy, we'll be periodically looking at parties affiliated with the league and the products/businesses they should be representing. 
Short. Sexy. Hair.
That's their name and that's what the man has. That man is the head coach of the Oklahoma City Thunder, Scott Brooks.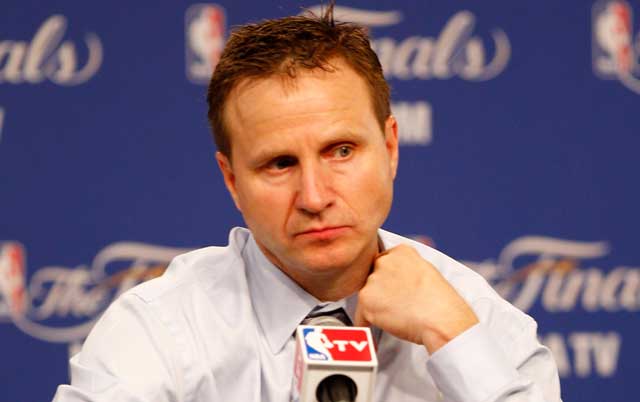 What are you doing Short Sexy Hair? Have you seen a picture of Brooks? Have you watched his Wired segments during ABC and ESPN televised games? The man has hair as hard as the Grinch's heart before he stole Christmas. Before all the little Who kids and Who moms and Who dads gathered with their pointy noses and elaborate hairstyles to hold hands and sing about love and peace and joy and giving each other goodies.
Brooks' hair does not move. It is steady and unchanging even in the most trying times. You're telling me if you put Scott William Brooks' cardboard stand-up self next to a wall full of Hard Up Holding Gel it wouldn't fly off the shelves like whoa? G. T. F. O. H.
The commander in chief of one of the most global teams in the league has immovable hair that always looks pristine and you don't have awareness enough to realize that? For shame. You could be paid, SSH. Paid heavy.
Look at it up there. That's that 90's stuff. Spiked and perfectly out of place. Brooks' hair is the opposite of the way Nick Collison plays basketball. Collison, forever in several places at once, covering ground, falling down to the floor to grab a loose ball or take a charge. Brooks' hair, the newest immovable object in the league.
Do the right thing, Short Sexy Hair. Handle your business and make Scott Brooks a part of it.