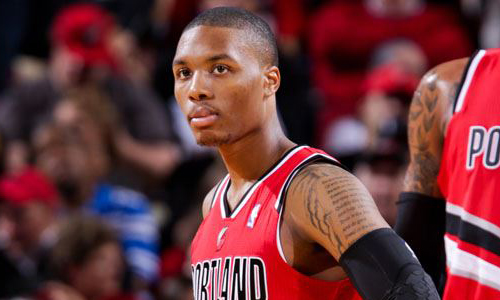 Concrete jungle where Damien Lillard  strolls up to you and shouts, "THIS. IS. PORTLAND." Then he kicks you down a never ending hole of heartache and depression.
This is a concrete jungle where he walks up to your dreams, grabs them by the head, whispers select lyrics from m.A.A.d City into their ear, and breaks their neck.
Drip drop goes the jumper for it is oh so very wet. Well, not at all actually. Least not lately. Super dry of late. Lillard was 6-22 from three since Friday (thanks to @blazersedge for that stat) up until he had every eye in the Mecca on him. Then he went and forgot his conscience.
This is why Lillard is terrifying. The guy is a rookie who has been struggling with his shot and despite that, on a rather large stage, when a shot needs to be hit, he does not hesitate. He rocks Prigioni into nap time, steps back, and sends thousands of New Yorkers home super pissed off.
On a day where season two of Portlandia became available to stream on Netflix, this shot was written in the free range stars. We are watching a potential superstar figure the league out before our eyes, and we should all be reacting like Will Ferrel did when that Randy Jackson look-a-like from Couples Retreat told him that Santa was coming to town tomorrow at 10AM. Or you can just react like the old, white bespectacled Portland assistant and shout obscenities and give all of the high fives in the world. Either will be more than fine.
Hero ball is a blast when it works.