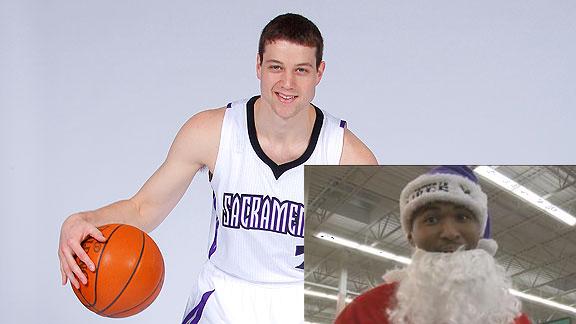 Setting: Locker room at Arco Arena. Demarcus Cousins and Jimmer Fredette sit in front of their respective lockers and dress after a morning shoot-around. Everyone else has left.
Jimmer: Man, I can't wait for Christmas.
DMC: (smacks lips) Christmas stupid.
Jimmer: Oh, come on, Demarcus. Christmas is magical. The lights and songs and food and presents…Santa. It's the best.
DMC: I don't like Christmas, Fred.
Jimmer: What do you mean Demarcus? What's not to like about Christmas? It's truly the most wonderful time of the year.
DMC: I don't want to talk about it, Fred.
Jimmer: You can't hate Christmas, Demarcus. What about Santa? You can't tell me you're not excited for Santa. What gifts did you ask for?
DMC: I didn't ask for no gifts.
Jimmer: What? Why wouldn't you ask for gifts? Santa's not gonna know what to get you now. You should ask him really quick.
DMC: Fred, I told you I wasn't trying to talk about it. Leave it alone.
Jimmer: Leave what alone? What are you talking about?
-DMC looks down and shakes his head-
Jimmer: Are you worried that you've been naughty and you won't get anything? Because I'm sure if you asked for forgiveness…
DMC: Santa ain't real, Fred.
Jimmer: You shouldn't joke about that stuff. You're gonna wind up with a lump of coal in your stocking.
DMC: I'm serious, Fred. He ain't real. Your parents is who does it.
Jimmer: Not cool, Demarcus.
-Jimmer zips his back and stands to leave.
Demarcus: You think one dude can do all that? You trippin', Fred.
-Jimmer's eyes start to well with tears as he nears locker room door.
Jimmer: I hope you have a Merry Christmas, Demarcus.
-Jimmer runs out of the locker room crying-